technology-4816658
Simplio3D a prebuilt product configurator software to drive sales and generate proposals directly from the website
Simplio3D is one of the most advanced product configurators on the market. It already acts as a real platform that offers flexible solutions for the most selective applications.
Simplio3D is a non-standard 2D and 3D product configuration platform, suitable for medium / large companies that want very specific requirements.
SEL (Simplio Element Library)
One of the advantages of the platform is its modular capacity. The modular capacity extends its customization range like no other solution, offering ready-made key components for building a product configurator.
Most of the time, the product configurators are very different from one another, they share some elements, but in the end they are quite different especially how they work. Therefore, we have developed SEL, a module library that can help us quickly set-up the configurator core, without the need to reinvent the wheel again and again. In this way we save a lot of time and the customized product configurator becomes more accessible in terms of cost and delivery deadline.
The library comes with several important modules ready to be implemented: 2D and 3D viewport, selection module, back-end system, submission/ordering module, integrations and VR/AR extensions.
Finally, we create an HTML wrapper that will make the look of the product configurator unique.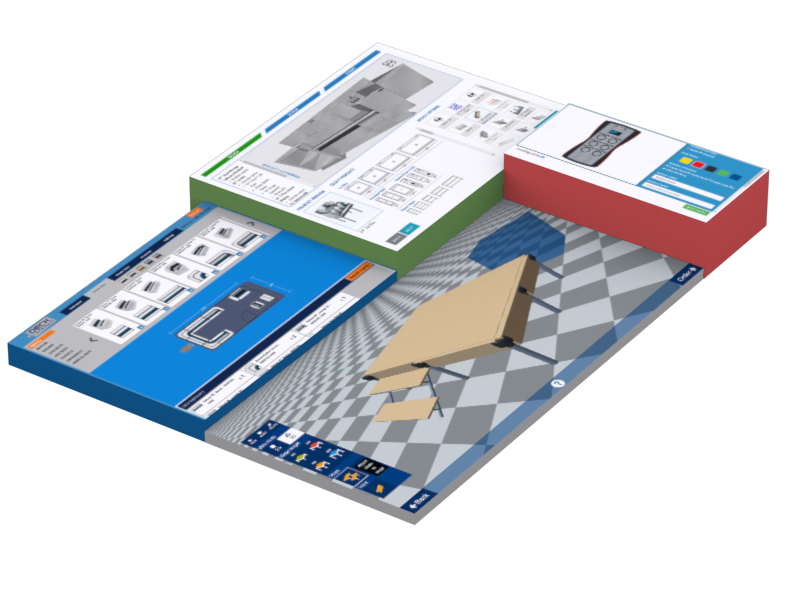 VR/AR extensions
The platform has the possibility to easily enable a VR or AR rendering capability for the 3D product configurator. Each time a user configures a product, they will have the option to change the view mode into an immersive product exploration mode by switching to Virtual Reality mode.
The same is true for the Augmented Reality mode where the user's device will need an activated camera to track the product in the real space.
Ecommerce Integrations
Simplio3D is compatible with most e-commerce platforms and some ERP / CRM systems. A product configurator can be easily integrated with the following e-commerce platforms: Magento, Shopify, WooCommerce, Salesforce and SAP.
Upon request, Digital Artflow can integrate Simplio3D with other platforms.
Full ownership (Perpetual license)
Digital Artflow is one of the few companies that distributes a product configurator application under a perpetual license agreement (full ownership) without any recurring payment. We work on a fixed budget and without other contractual obligations. If the client wants to own the product configurator, then Simplio3D is a serious option.
As an option, we recommend the professional hosting & technical support subscription. This way, clients don't have to deal with technical aspects like deployment, any special server requirements and for any technical problem that may occur it is covered by the subscription.
Feel free to contact us and we will help you find out what the costs are for implementing a bespoke product configurator.